Arkansas Winds Christmas Concert
Submitted by Allen on Mon, 12/05/2016 - 03:47
The Arkansas Winds Community Concert Band will present their annual Christmas concert titled "Krampus and Carols" on Sunday, December 18. The concert will be held at the Farmington Performing Arts Center, Arkansas 170 & Blue Sky Road, Farmington, Arkansas, at 3pm.
The Winds are proud to partner with the Farmington High School Honors Choir, under the direction of Laura Jackson, for the concert. This year, the town of Farmington and the public school music department were presented the national honor of Best Communities for Music Education. The two groups will be performing independently and jointly to present a fun holiday afternoon program including familiar Christmas carols and some less traditional fare.
Admission for the concert is free.
The Winds will perform the same concert on Monday, December 12th at 7:30pm for the residents of the Butterfield Trail Village Retirement Community.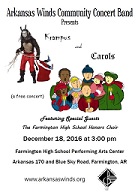 Click on the image for a flyer (PDF)