Member Information
Joining the Winds:
The Arkansas Winds Community Concert Band is committed to the community band concept, providing an opportunity for community musicians of all ages and all levels of experience to make music and improve their skills in a supportive atmosphere. There are no auditions and the Winds welcomes anyone who can read music and play a band instrument. The Winds rehearses Monday evenings from late October to early July. Send an email to info@arkansaswinds.org for additional information related to section needs and upcoming events.
Member guidelines:

Each returning and prospective member should review our member guidelines.
Important rehearsal dates for the 2015-2016 season:

The band rehearses Monday evenings, 7:00pm to 9:00pm, in the Farmington High School Bandroom within the Farmington Performing Arts Center . Our typical season ranges from late October through early July. Be sure to refer to the Concert Schedule so you can have those dates on your calendar.

Monday, October 31, 2016 - 7:00pm - First rehearsal of the season, Farmington Performing Arts Center, Farmington, AR
Monday, January 2, 2017 - First rehearsal after Christmas break, Farmington Performing Arts Center, Farmington, AR
Monday, March 20, 2017 - No rehearsal Spring Break
Friday, April 28, 2017 - 7:00pm - Dress rehearsal, Farmington Performing Arts, Farmington, AR
Click this image for a printable copy of the 2016-2017 rehearsal and concert schedule.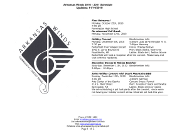 .
Directions:

The Winds rehearsals are located in the Farmington Performing Arts Center, Highway 170 & Blue Sky Road, Farmington, Arkansas. From I-49, take the exit for US 62 West (Martin Luther King Boulevard) toward Farmington. Drive west on US 62 (Main Street) for 5.1 miles to the traffic light at Arkansas Highway 170 (South Hunter Road). Turn left (south) onto Highway 170 (Hunter Road). Continue on Highway 170 for about 1 mile and the PAC will be on the right. Turn right(west) into the first PAC driveway past the Southwinds intersection. Follow the driveway around the left turn, the "Instrumental Music Room" will be through the double doors.